Erin

- University of Hawaii Manoa - Class of 2024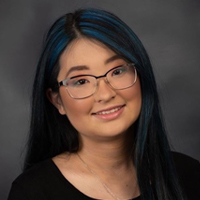 "Do your research. When it came time to make my college decision, I realized I didn't really know much about the colleges on my list or understand why I had applied to some of them."
Hometown:

Rancho Palos Verdes, CA
High School:

Public
GPA:

3.41 (w) / 3.26 (uw)
SAT:

1350
ACT:

30
Intended Major:

English
Goals for College:

Get a degree and gain experience in writing and other creative fields
Extracurriculars:

Community service work through Assisteens, KIWIN'S club vice president, choir, robotics team
Since I started high school, I've been back and forth on where I wanted to go to college and what major I intended to pursue. I remember in sophomore year, I wanted to pursue a degree in graphic design and even considered applying to a school in eastern Canada!
Looking for four seasons
By junior year, I was set on being an English major since my greatest passion in life is writing. But I did not look specifically for schools with great English departments. At first, all I knew was that I wanted to move away from California to somewhere on the east coast with gorgeous fall colors because autumn is my favorite season.
I also knew that I had to be realistic about my relatively low GPA and select colleges where I had a good chance of being admitted. Fortunately, my test scores were good, and I was also very active in high school, so I hoped I would stand out as a well-rounded individual.
From autumn to aloha
I ended up applying to ten schools all over the country, from Hawaii to New York. I chose my schools because of their locations, mostly, or because I had visited the surrounding area and liked it. For example, I never toured the University of Minnesota, but I had been to the Minneapolis area and liked it. I knew that I wasn't going to be in class 24/7, so I wanted to be sure I picked a location where I would be happy living.
I was able to visit only three of the colleges I applied to: Northern Arizona University, University of San Francisco, and University of Hawaii at Mānoa. When I toured NAU, I loved the school, the weather, and I thought the area in the high desert was just perfect for astronomy and stargazing, which I love.
Three months later, I visited the University of Hawaii at Mānoa and I completely fell in love with the islands, the temperate weather (so much for autumn leaves!), the culture and the people, and the chill and friendly vibe Hawaii had. Plus, I have a lot of family there, which was comforting.
The University of San Francisco was very different than NAU and University of Hawaii—the campus was small and in the middle of the city. I liked the school but not as much as NAU or UHM.
Early action everywhere
I was really anxious to get my applications in. I applied to most of my colleges Early Action so I could hear back from colleges as soon as possible.
I completed some of my applications as early as August. I had already decided upon my essay topic because I had explored essay questions in my junior-year English class. I wrote about the arts, as I've always been passionate about writing and music.
Next-day notification
The first school I got into (a day after I applied) was Northern Arizona University. I was so surprised to get in so soon! I felt secure knowing I had somewhere to go if I was rejected from all the other schools on my list.
The rest of my decisions arrived over the next five months. I was admitted to eight out of ten schools! I was denied by University of Minnesota and University of Washington—but getting these denials wasn't that difficult for me after receiving so many acceptances. The University of San Francisco waitlisted me and then admitted me in March. I did not expect to be accepted to USF after turning down an opportunity to interview.
Short on information
When it came time to make my college decision, I realized I didn't really know much about the colleges on my list or understand why I had applied to some of them. I knew they were good schools, but there was nothing pulling me towards them because my knowledge about what they had to offer was limited.
My decision came down to NAU and University of Hawaii, which had been my top choices all along. I chose Hawaii because I love the environment and I feel safe knowing that I have a lot of family nearby to help me if I needed anything—a fact that my mom also likes. I still love NAU and plan to apply there if I decide to get my master's degree. For now, I'm truly happy to be a Rainbow Warrior and to call Honolulu my home for the next four years.
What I learned
I am happy with my college decision, but I sometimes wonder if there are better schools out there for my major. If I had to apply again, I would put more research into the English departments and writing programs at different colleges. For now, I'm looking forward to taking writing classes at UHM and getting feedback from instructors and peers so I can improve.
The money factor
UHM is affordable because California residents receive discounted tuition, due to the Western Undergraduate Exchange program. I also received the Mānoa Academic Merit scholarship, which covers $1,500 of costs per semester for all four years of college. My parents will be paying for the remaining costs.
My advice
Think hard about the colleges you apply to and do your research to learn as much as possible about them.
Make sure you understand your reasons for applying to each college on your list, as this will help you when it comes time to make your decision.
Apply to schools that might be reaches academically or financially if you really want to attend them. You might be surprised and be accepted or earn a scholarship. It's always better to try and fail than be left wondering.
Read More Student Stories:
| | | |
| --- | --- | --- |
| | Rebecca - UNC Chapel Hill "Diversity numbers were important to me, but I found that the data didn't always reflect how diverse the school felt." | |
| | John - Georgia Tech "A well-designed college list will result in a good outcome almost no matter what happens. Even though I had been told this, it took rejections, deferrals, and waitlists to make me realize it." | |